Who we are...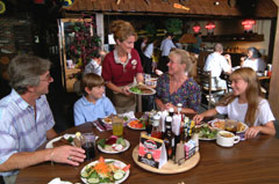 Hoss's is not your typical steakhouse restaurant. We offer honest, delicious food – without the attitude. Hoss's specializes in cooked-to-order steaks, chicken and seafood complemented by our famous soup, salad, bread and dessert bar. There's something for everyone, whether you're a family, a couple or a group. We proudly prepare each meal to order using only the freshest ingredients. Each juicy cut of steak is sliced by our experienced butchers. We serve the freshest seafood, sensationally seasoned, delicately broiled or hand-breaded and lightly fried. Our boneless breast of chicken entrées are prepared with extra TLC and served in a variety of styles to satisfy any taste.

Hoss's famous soup, salad, bread and dessert bar features over 100 fresh items, including hearty from-scratch soups, salads made from Hoss's own recipes, crispy vegetables and delicious sauces. You'll also find warm hearth-baked breads, delicious fruits and desserts, and, of course, our soft-serve ice cream.

Our philosophy is that people make all the difference, which is why Hoss's treats every employee with the same respect and consideration as we do our guests. That's how we offer the Hoss-pitality our guests have come to expect since 1983.

Speaking of hospitality, there's just one other thing you won't find at Hoss's – hidden charges. Butter, gravy, sour cream, fried onions and sauces are extras that never cost extra at Hoss's.


---